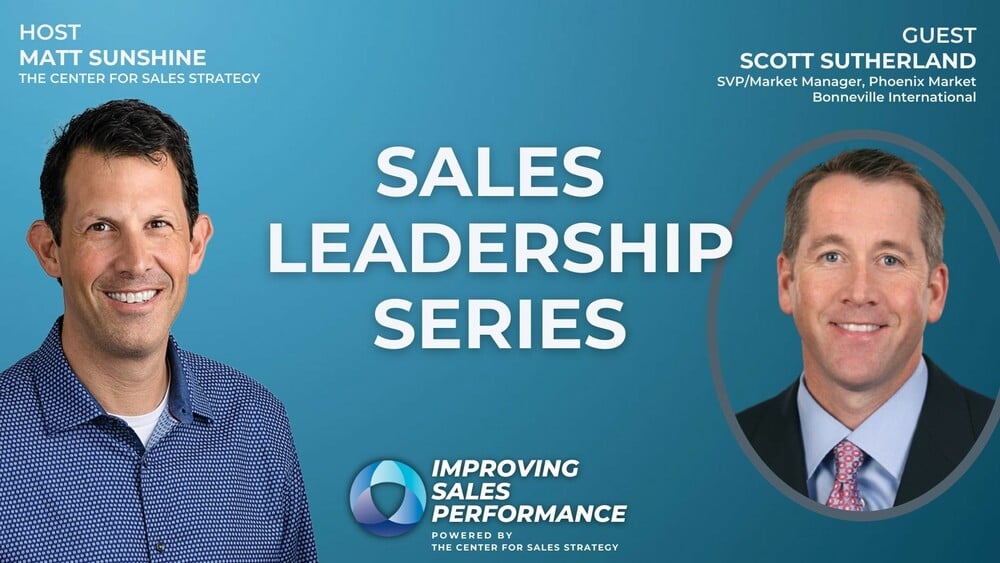 What big rocks should sales managers focus on? What should they be doing or learning right now to ensure success?
On this episode of the Sales Leadership Series, Scott Sutherland, VP/Market Manager of the Phoenix Market at Bonneville International, joins host Matt Sunshine to answers these questions and discuss sales and executive leadership tips.
Tune in now or keep reading for a brief overview.
About Scott Southerland
Scott joined Bonneville in 2005 and currently serves as SVP/Market Manager for the Phoenix Market. During his time at Bonneville, he spent two years as SVP/Market Manager for Bonneville Seattle and also served as Director of Sales for Bonneville Phoenix. 
Prior to joining Bonneville, Scott spent ten years with CBS Radio, AM/FM Corporation and Chancellor Media. While there, he held various senior positions including, Director of Sales, General Sales Manager, and Account Executive. 
Scott currently serves on several Phoenix non-profit boards, including: Greater Phoenix Leadership, Boys & Girls Clubs of Metro Phoenix, ALS Association of Arizona, and the Walter Cronkite School of Journalism at Arizona State University. He previously served as Chairman of the Arizona Broadcasters Association and board member of the Southwest Autism Research and Resource Center. 
Key Performance Indicators for Sales
Matt asks Scott, "From the Market Manager point of view, what are the things you look at in the sales department that let you know that you are on track?"
In other words, what are the 3 to 5 key performance indicators you look at? 
"How are we doing controlling the areas we control," answers Scott. "The pandemic gave us those answers — some stations had benign effects from the pandemic, other had malignant effects."
He lists the characteristics of the stations with the benign effects as:
Local business with access to decision makers.
Businesses tied to specific KPIs.
Local businesses tied to custom needs-based solutions.
Those over indexed in digital composition.
Category diversification.
He mentioned that the characteristics of stations with malignant effects are over indexed on national and under indexed on categories.
Matt and Scott also discuss how the definition of "super star" has also changed. Tune in now to see how other businesses are defining the role.
What Should Sales Managers Focus On?
It's no secret that being a sales manager is the hardest job in the industry. With so many tasks at hand, what are the big rocks that managers should stay focused on?
Scott answers with:
"Managers try to do too many things and forget about big rocks," Matt adds. "If you can reduce the attrition rate, focus on target account and new business, and do better at recruiting the best people — you will win more."
Scott adds, "A lot has changed, but fundamentals have not. They're more complex, but core fundamentals have and always will be there."
How Has Sales Management Changed Over the Years?
"If there's anything that illustrates the complexities of being a sales manager today, it's the four P's in IMPACT," states Scott.
The four P's, or sections in the IMPACT Leadership System are: People, Process, Plan, Performance.
Sales managers hardest job in industry. They must think about target accounts, renewals, attribution, recruitment, and much more.
"It's much more sophisticated today," Scott explains. "Digital products have made it more complex. Instead of focusing on audio, you have third- party digital assets, plus managing performance, a CRM, ensuring you meet budget, and making sure inventory is there."
Additionally, these days sales managers have virtual "got-a-minutes." Rather than someone popping in the office for a few minutes, they now have to schedule 30-minute calls.
A piece of advice Scott offers sales managers is to focus on what you can control — retention, target account development, and recruitment.
What Should Sales Manager be Doing to Ensure Success?
Scott mentions the issues his organization is currently facing:
Sales leaders should be intentional about culture and understanding digital capabilities.
If you want to ensure success, Scott also adds that you'll have to make some changed to your sales structure. "Sales structure in our industry is problematic and it holds us back," he explains.
Matt also adds the formula for determine how successful you'll be is based on hiring the right talent and giving them a structure and process that will set them up to succeed.
If we don't change, what changes?
Don't miss another episode of the Improving Sales Performance series where Managing Partner Matt Sunshine speaks with thought leaders, experts, and industry gurus, who share their insight, tips, and knowledge on various topics that help companies improve sales performance.  
Subscribe to our YouTube channel, and have your notifications on so you're notified of our next episode!